Phil and Lisa's Website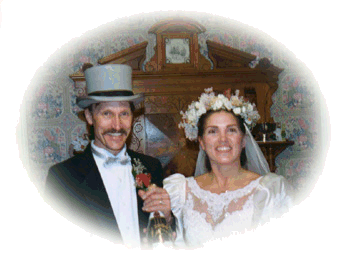 Lisa is an accomplished wildlife artist, working in watercolors and pastels.
She has a wealth of high-end graphic editing experience and can restore scans of your precious
photographs ravaged by time and fingerprints. Doesn't she look fantastic?!?!?!
Prints of her excellent watercolor art may be purchased by clicking this banner!


I am a Microsoft Certified Professional, trained, tested and certified by Microsoft in the
installation, configuration and administration of the Windows NT 4.0 network operating system,
as well as planning and implementing network upgrades to Windows 2000.
While I was in school, the job market seems to have become flooded with people.
I think I'll develop an online business enterprise instead. I'm sure nobody has thought of THAT yet!
I have been scuba diving since 1977, and have explored shipwrecks of Lake Superior,
underwater caves of the Caribbean and excursions under the ice of frozen Minnesota lakes.
Most of the world is unknown because it's underwater.

We are devout Taoists, worshipful of the natural world we live in.
I don't need to tell you what Taoism is.
Perhaps you will understand if you spend enough time exploring here.
There are different doors of perception through which to see life.
The Chinese have developed a special harmony with the natural order that has been
an integral part of their daily existence for thousands of years.

Surf on over to sites created by other members of our family:


My brother would have uploaded this if he had lived:


The next group of links refer to computer communications.
Although apparently unrelated to the organic nature of this site, we believe our success
or failure as human beings is historically directly proportional to the quality of our
ability to communicate. Many wars, misery and suffering death can be attributed to a lack
of understanding. Technology can be our salvation by allowing the free exchange of valuable
and timely information. From now on, that is facilitated in the most eloquent and meaningful way by

computers.

| | |
| --- | --- |
| | TechTV - Formerly ZDTV |
| | |
| | |
| | |
| | |

Just for fun: